Yes, I'm reading the emails. Yes, I'm sorry for the bad blogging habits. Yes, I will try to do better. Yes, I will probably fail. Deal with it, why don't you? :P

Everyone kept telling me to slow down or I would burnout...ummm....it appears I'm not so good on the listening thing. Hah, who knew??? I guess all the stress from this uber-ugly year finally caught up with me. I've been pretty good at ignoring and rationalizing the effects of stress, but I still haven't figured out how to best the CHF symptoms when they whomp me upside the head. Last week, I got WHOMPED....and it pushed me over the edge. I guess I was just mentally and physically exhausted. While I did the bedrest thingy (blech) and cried, "Please don't make me go to the hospital..." I started my version of the basket-weaving project. Knitting. I'm on the second blanket now...hehee, the kids should be pretty damn snug this winter.

Manimal & Mamacita dragged me found us a new GP, so off we went to see him (EXCELLENT guy.) Not only did he medicate me on the spot...gotta luv him for that...he also listened and paid attention to details. WOW. I've been following everyone's orders: rest, rest, rest. He also prescribed some new meds (some are kinda groovy) and I have a follow-up in a week. Oh, and now for some reason, I'll also be going to a sleep clinic. That should be cute. I can barely fall asleep in my own home...it will be a bit of a challenge to do it when people are watching me....ewww. And it turned out I was also potassium-deficient, which leads to fatigue, muscle weakness, heart irregularities, anxiety and confusion. Weird that my previous doctor, may he rot in malpractice hell, never tuned into it.

On the plus side, SupahStah admitted he was feeling the effects of all the stress and leaving was just a panic move on his part. He flew home Sunday morning and is back in college. Needless to say, it made me very happy to have him home again and grateful he's decided to pursue his education. A huge TY to Tink & Tippy for being the aunt & uncle with the mostest, opening their hearts and home, and giving my kid a place to run away to de-stress.

Manimal is doing great...even if he's become addicted to "Deadliest Catch." He's a little frustrated at the loss of so much muscle mass and strength. I'm not sure what he expected...he lost 40 lbs. Everyone repeat after me...you were a very sick guy. Yesterday was his follow-up appointment with the surgeon, who is extremely pleased with his progress and was a bit surprised at how soon he went back to work. Oh boy...wanna see a happy camper? Manimal after doc put him back on a regular diet. Woohoo!!!

As it stands, he's got some tests in January and the reversal surgery in March. That pretty much screws over any chance of the Carib vacation for either Christmas or March break. Ack, maybe next year. At least I'll be able to head to the Cmdr's for the Army/Navy PJ Party in December....soooo looking forward to it. I miss ya, ladies.

Sweet Pea has grad photos next week. I can hardly believe it's that time already. She hasn't mentioned her prom dress yet...two graduating girls in June. I better start saving my bucks now. For Halloween, she's going to a toga party....omg, I don't even want to know the details.

Sugah Pie is busy making invitations to her 13th birthday party...she's having a Luau in a few weeks. Tomorrow night, she'll be roaming the streets with her pals as a fairy princess. No store bought costume for this kid...she put the ensemble together weeks ago. She's also the kid who asked if we could go to New York City to buy her grad dress. I'm pretty sure my response was, "Back off, Miss Hilton." *snort* "Ya live in the sticks."

There you have it...even if Zoo staff isn't functioning at optimum levels, the animals ensure we still drag our butts out the cave and face another day.

Thanx to Stephanie for this one : )

THOUGHT OF THE DAY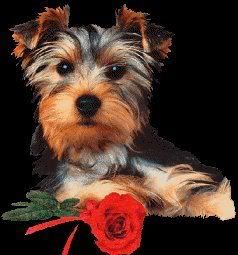 Handle every situation like a dog.

If you can't eat it or hump it...piss on it and walk away.